A winter wonderland awaits… in Australia!
In Australia Christmas in July is traditionally about celebrating the change in seasons. In the Southern hemisphere a snowy theme is always popular, it's such a novelty and one we love to embrace during the cooler winter months.
Our 10ft Winter Wonderland Christmas tree is a departure from the usual white on white colour theme. It's always a challenge working out of season with last years product and much smaller quantities. But, sometimes less is more and unusual combinations such as metallic silver sprays and felt flowers work unexpectedly well. This mix of matt vs metallic, warm and cool shades is currently trending in interior design.
Here's a detail from our Christmas in July tree, themed with a Country Christmas in mind. Our RAZ elves are coming down the mountain with a vintage Santa pulling the sleigh. While wintry animals like reindeer and brown bears look on, its a picture book story brought to life in 3D. The silver bells, sprays and glittered pinecones add a sparkle that contrasts with more traditional rustic elements.
An archway is a great way to separate areas within the store and to introduce a new theme or product range. In keeping with our country styled Christmas we've worked with silver, white and grey adding a sprinkle of white fairy lights to highlight the change.
Each year we come up with new ideas to inspire our customers and styling the Christmas table is one of the easiest ways to surprise and impress your guests. By celebrating Christmas in July we do it twice! This wintry table setting is all about texture and a woodland theme sprinkled with snow is always popular. Keep the palette subdued, white, beige and dark green work well and bring in natural textures for warmth.
It only takes one piece to inspire your entire tablescape. We love this baby deer figurine, the cool grey works well with the rustic country theme as does faux fur, cotton wool sprays and the driftwood candelabra.
Personalise the place settings with a small gift like this Christmas sign a decorative bauble or snowflake. It will certainly be appreciated and doesn't need to be expensive. We've also used a decorative parcel on this red and gold themed setting.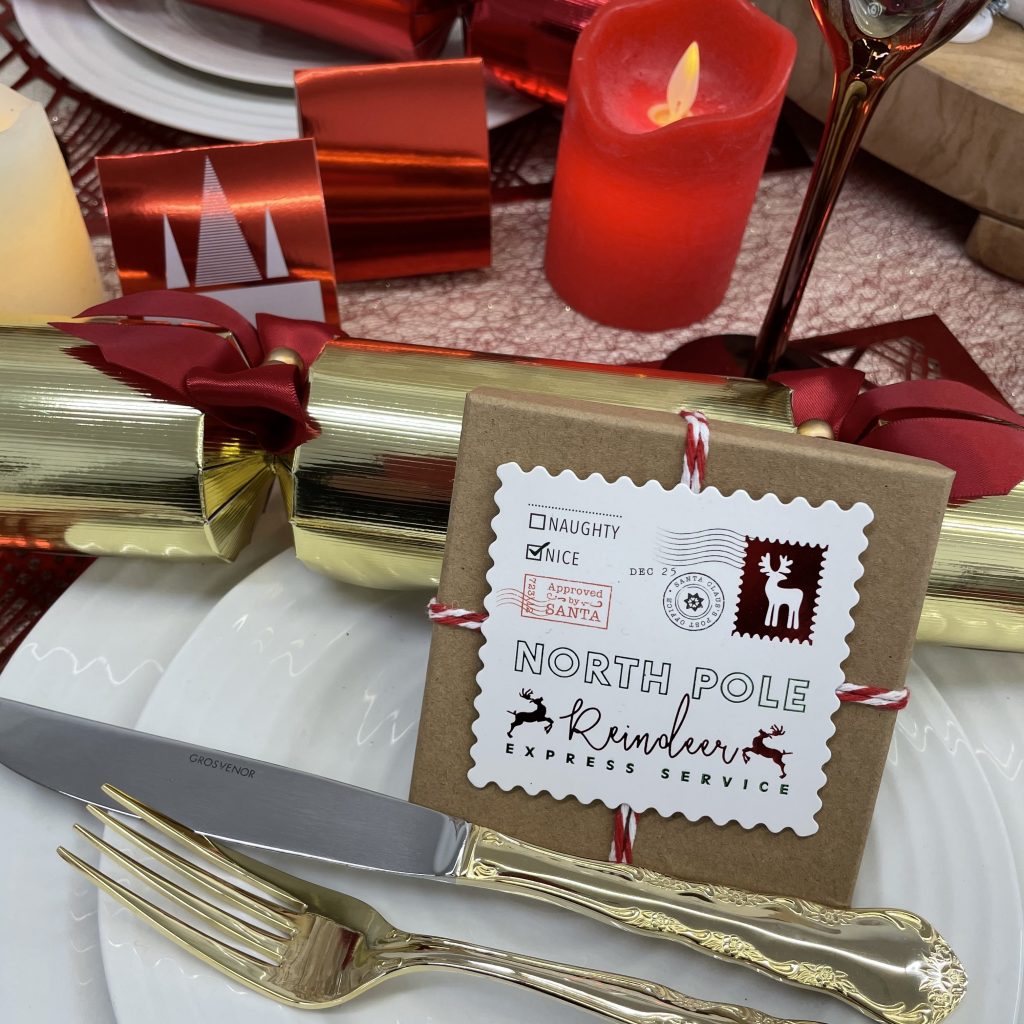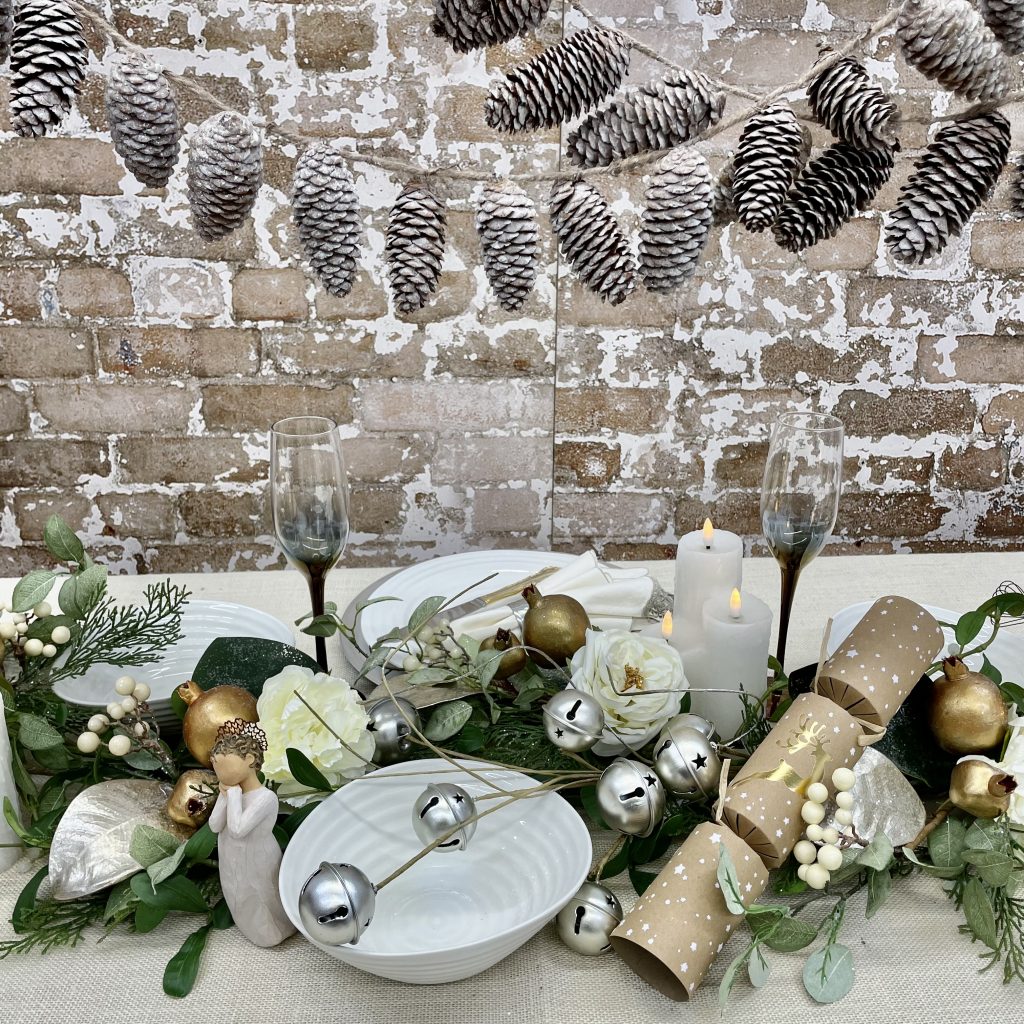 Another trick of the trade is to suspend a garland like these white pinecones, this lowers the ceiling height and creates a cosy intimate feel your guests will love. Baubles, bunting or streamers hung above the table are just as effective.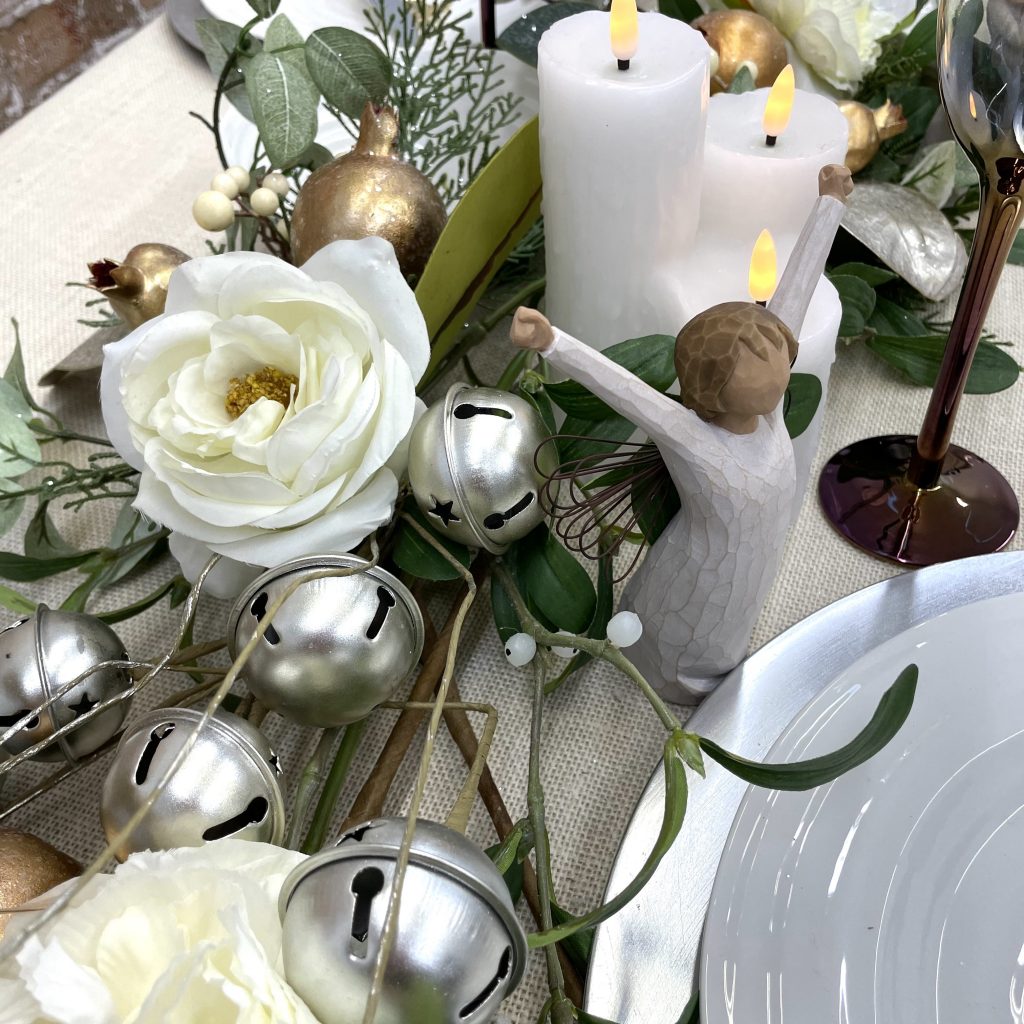 Don't forget to bring your favourite Christmas pieces like these Willow tree figurines out of the cabinet and make them part of your display. We've done the same with these musical battery operated nutcrackers, make them a feature that everyone can enjoy. Keep it visually interesting and choose pieces with different heights or use plinths to display pieces.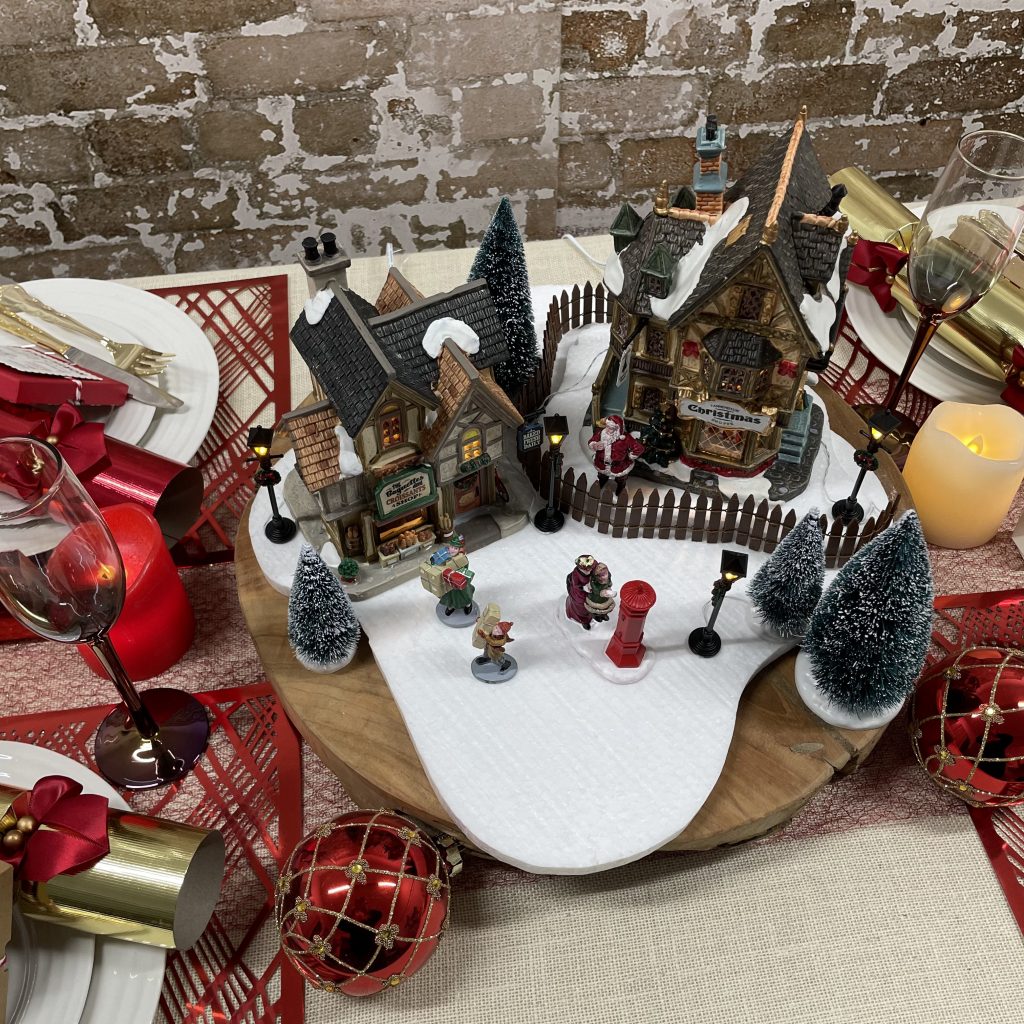 Take it one step further and make a vignette with products you love like this Lemax Christmas Collectors Kit created for the centre of the table. If you use a board to display your objects it can easily be removed to make way for food platters.